Our team has been on the frontline delivering cleaning, security and integrated services for businesses across Australia and New Zealand since 2003.
We pride ourselves on the long-standing partnerships we have with clients, employees and our suppliers. 
This enables us to make places and spaces better for people each and every day. 
With a team of more than 4,700 we serve sectors including commercial, retail, industrial, hospitality and education. Our clients choose integrated or independent services to suit their needs
Supported by head office in Melbourne and regional offices in Auckland, Wellington, Christchurch, Sydney, Brisbane, Adelaide and Perth, Canberra and Townsville; our team members provide critical cleaning, security, and integrated services at more than 700 client sites.
Millennium delivers the assurance and peace of mind of working with a publicly listed company (ASX:MIL) with a strong adherence to corporate compliance and an unwavering commitment to producing tailored solutions and exceptional customer experiences for our clients.
Purpose
We are a trusted partner to businesses across Australia and New Zealand delivering class-leading property services making places and spaces better for people.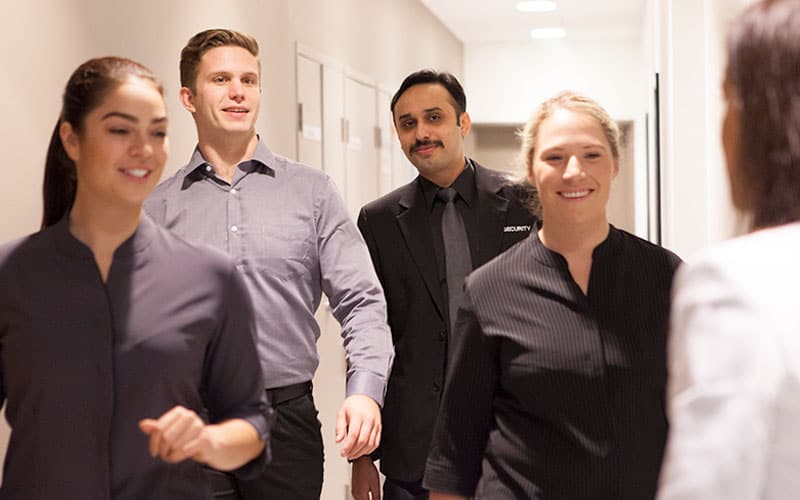 Values
SERVICE – We care about the needs and expectations of our clients and community and our people are driven to provide outstanding customer experiences.
INTEGRITY – We are committed to acting ethically, maintaining strong corporate governance and being transparent and respectful to all our stakeholders.
TEAMWORK – We understand that working together, united as a team we are stronger and the safety and wellbeing of our people is our top priority.
ACCOUNTABILITY – We take ownership for delivering results for our clients.
History
Millennium started operations as a security services company in 2003 in New South Wales and has grown steadily since inception to provide class-leading cleaning, security and integrated services on the eastern and southern seaboards of Australia.
In 2015 Millennium expanded operations into New Zealand and the same year in November, listed as Millennium Services Group on the Australian Stock Exchange.
In late 2016 as a result of its successful acquisition of Airlite Group, a leading cleaning and integrated services provider based in Perth, the company extended its service offerings to Western Australia.
OFFICES  VICTORIA  |  NEW SOUTH WALES  |  QUEENSLAND  |  SOUTH AUSTRALIA  |  WESTERN AUSTRALIA  |  ACT  |  NEW ZEALAND